Should Portland reinstate mandatory auto parking construction on the inner east side?
Ten years ago, then-Commissioner Charlie Hales led the city to take the unusual step of allowing developers to build apartments without on-site auto parking even in areas where street parking is free, as long as there's a frequent transit line within two blocks.
Supporters of the policy call it a blessing for the 25 percent of Portland tenants who don't own cars and struggle to afford a place in the city's inner neighborhoods. Opponents call it a handout to developers and an annoyance to current homeowners.
A public forum on the issue is planned midafternoon on Nov. 13. The city is also taking comments.
Developers like to avoid building on-site parking because it's expensive – the equivalent of about $100 per month in rent per space, a cost they say is passed on to future tenants. And there's little doubt that if on-site parking were required, some of these projects wouldn't be profitable enough to build.
But no story can capture every perspective. So I wanted to share some of the many smart things I heard from the many Portlanders (and one Seattleite) I spoke with for this project. One caveat: Because I talk mostly to people interested in low-car life, more of these perspectives come from people who support no-parking apartment buildings than those who oppose them. But I hope this captures the diversity of opinion on this complicated issue, even among Portlanders who appreciate low-car life.
Buri: Portland needs more rental housing
Justin Buri, Community Alliance of Tenants deputy director (but speaking for himself), Piedmont neighborhood: "Portland is taking on more residents, and unless we build more apartments, the rent is going to be outrageous. … For some people, parking is necessary – probably not everybody. … That's really what's on the table: do you want more parking, or do you want more places for people to live?"
De Place: Affordable walkability shouldn't be illegal
Eric de Place, Sightline Institute parking policy expert, Seattle's Ballard neighborhood: "Most of the older parts of Seattle and Portland – the parts that are so lovely and attractive to everyone – you couldn't build those places today. … In most of the city, those neighborhoods would be illegal to build. …
"Most people who've looked at this question in depth have concluded that parking adds a significant premium. … You can have affordability or you can have parking mandates, but you can't really have both."
Pearce: Changes are happening too fast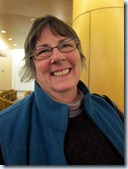 Susan Pearce, Hosford-Abernathy neighborhood: "We realize we need to move up but not out. We want strawberry fields on the Willamette. … [Portland's recent demand for low-car housing] is a sea change. But we can't take a tsunami. This feels like a tsunami. … I really think we need to do something to make it a less painful transition."
Miner: Keep letting great neighborhoods diversify
Jason Miner, executive director of 1000 Friends of Oregon, Hillsdale neighborhood: "One of the ways in which Portland differs is that we have a tremendous amount of single-family housing really close to the city center. That's not the case nationally. … It's leant a lot of character to our existing neighborhoods. …
I find it hard to accept that we have made public investments in the infrastructure that makes these 20-minute neighborhoods possible and that we now feel that they were only built for the people who are currently there. … I don't think that's the vision of the city. I think the vision of the city is that people from all sorts of income levels and all sorts of backgrounds are to be housed in our neighborhoods and able to take advantage of this."
Bates: If we change parking policy, it'll be hard to change it back

Lisa Bates, housing policy professor in PSU's College of Urban and Public Affairs: "Every person who's competing for rental housing can outcompete the low-income person. … Having more supply will take pressure off the prices."
[On proposals to remove the city's rule allowing apartments within 500 feet of a frequent transit line to be built without auto parking] "If this is something that gets repealed or gets changed, I think it would be very hard to bring it back. … The voices of the people who don't want it are louder than the people who might potentially live here and would be helpful for our economy."
Whitten: First, improve public transit
Cameron Whitten, affordable-housing activist, Northwest neighborhood: "If we want to encourage people to live carfree lifestyles, we have to make sure that it is authentic, and we're not just building these carfree places while people have cars still. … Right now we really don't have alternatives. … Our funding for alternative transportation is terrible. …
"We need to be using better tools to be making housing affordable. Especially with inclusionary zoning. There are other tools."
Cress: Having more middle-income apartments slows rent hikes at cheap apartments
Eric Cress, developer of no-parking apartments, Laurelhurst neighborhood: "Professionals who have good jobs at Weiden+Kennedy or something like that … were either going to the Pearl or stuffing themselves in [smaller, lower-quality apartments on the east side]. What we're doing is taking those renters and putting them in our building, and those are helping maintain the older rent on those other buildings."
Field: Developers should subsidize either cars or carfreedom
Allen Field, Richmond neighborhood: "There's no reason why the city can't be creative. … Either [developers] put in so many parking spots, like 0.5 spots per unit, or if they don't, they need to put in so much money to attract car-free people. So you can give the developer a choice. 'Look, you can either put in [parking] or you must kick in $20,000 to put in carshare memberships, to put in bus passes.'
[On parking permits as a way to make street parking more available.] "To me, to pay $65 to be able to park in the street is just … If it starts at $65, it's just going to go up and up and up."
Gibb: Nobody has more right to public streets than someone else
Megan Gibb, transit-oriented development manager for Metro: "Having worked in the Detroit area … we are really lucky and fortunate to be planning and managing growth instead of managing decay. … That's part of what's drawing people here: the shorter commute times, the access to retail. …
"If you do have a garage or driveway, then what are you worried about? And if you don't have a garage or driveway, then why should you be allowed to park there when somebody else is not allowed to be?"
Bozzone: Parking is a proxy for bigger development problems
Steve Bozzone, Boise neighborhood: [On the fact that many new apartment buildings are built on lots that were zoned for any use.] "All the developers say 'You should have been at the zoning meetings back in the day.' … What the neighbors envisioned were jobs – real jobs for people who lived in the neighborhood. Office buildings and that kind of thing. It's mostly apartments with bars and restaurants in the bottom. They're right up against little tiny homes right behind them that have been there for almost 100 years. …
"This is sort of a product of that tension, and the parking is sort of a proxy fight."
Keech: Government should let neighborhoods set their own course for change
Anne Keech, Buckman neighborhood, responding to Portland Afoot's coverage: "As a resident of one of the 'NIMBY' neighborhoods affected by the high-density, low-parking construction boom, I take issue with the characterization of the opposition to this type of construction.
[Keech attached an open letter on the subject from the Buckman Historic Association.]
"Buckman, as the oldest neighborhood on the east side and with a location close to downtown, is doubly threatened. Many of Buckman's properties are not owner-occupied and are vulnerable to being sold to a developer and torn down for high-density developments or new single-family residences out of scale with existing housing. …
"We accept the inevitability of increased density and change, and we want the community to lead the way to future change, not be at the mercy of outside or governmental forces. Until the city recognizes the value of its neighborhoods, a national register historic district is the only option which allows for community empowerment."
Edge: Housing is more important than parking
Joseph Edge, Pearl neighborhood: "Neighbors just don't realize when they're coming to these meetings – they're saying, 'You're making it difficult for me to find a place to park.' Well, you're making it difficult for someone to find a place to live."
Portland Afoot's coverage of this important issue will continue through the Nov. 13 city hearing and into next year's legislative session, in which OPAL, the Community Alliance of Tenants and others plan to push for the state to allow inclusionary zoning, another way to encourage affordable housing.
(Creative Commons auto parking photo by Curtis Perry. De Place photo courtesy Sightline. Miner photo courtesy 1000 Friends of Oregon. Cress photo by Michael Schoenholtz. Gibb photo from http://iurd.berkeley.edu/. Keech and Edge photos courtesy their subjects.)
Post by michael at 3:14 pm November 2nd, 2012. Like what you see? Get future posts by email.
comments powered by

Disqus